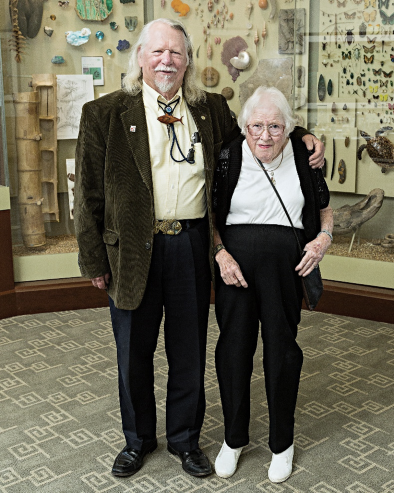 Background
In 2017 an endowed postdoctoral fellowship was established through the generous donation of Bruce B. Collette to support postdoctoral research focused on collections-based systematic ichthyology at the National Museum of Natural History (NMNH).
With a career starting in 1960, Dr. Bruce Collette's passion has been collections-based systematic studies of marine fishes. There are three thing he loves most about NMNH: the collections, the library, and the people. "It's a very special place," says Collette, who spent nearly 60 years in the NMNH community as an employee of the National Marine Fisheries Service (NMFS - NOAA), a resident affiliated agency partner, and continues in emeritus status.
Dr. Collette and his wife Sara established this fellowship endowment at NMNH to help train the next generation of collections-based ichthyology researchers and provide an opportunity to share the NMNH with them. "What I love most about the Smithsonian is its magnificent collection, which has enabled me to spend the majority of my career looking at specimens. I want the next generation of researchers to experience the collections, library and people of the NMNH. I want to pass on the privilege of doing research here," said Collette.
Purpose
The purpose of the Collette Postdoctoral Fellowship is to support full-time, resident, independent research focused on the study of systematics, including comparative morphology, of fishes using the NMNH collections. This is a one-year award with the possibility of renewal.
Awardees are expected to be actively involved in the scholarly activities of the Division of Fishes as well as collections-based systematic ichthyology both nationally and internationally.
Resources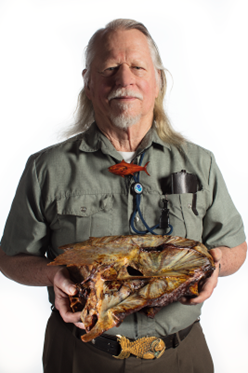 Research in the Division of Fishes is directed primarily toward systematic revisions of species, genera, and families, and the interpretation of higher classification and biogeography. Staff research efforts are currently focused on the Caribbean and Indo-Pacific marine shore fishes; beloniform, scombroid, pleuronectiform, tetraodontiform fishes world-wide; larval fish studies, ontogeny, and reproductive morphology; and Southeast Asian freshwater fishes. Osteological, myological, and other studies are being conducted as a basis for understanding the phylogeny and higher classification among a broad range of taxa.
The Division of Fishes maintains the largest, comparative collection of fishes in the world with over 975,000 lots – specimens of the same species collected at the same time and place – totaling over 6 million individual specimens. The collection is arranged phylogenetically by family and then alphabetically by genus and species within each family. Over 50% of the collection has been computer catalogued and is accessible through an online searchable database. The collection has the world's largest holdings of North American, Neotropical, Caribbean, and West Pacific fishes. In addition to the specimens, the collection includes illustrations and photographs (25,000 units) as well as radiographs (25,000) of fishes.
Specialized facilities including radiographic and light photography systems, microCT, molecular laboratory, scanning electron microscopes, and a digital imaging facility. These are supplemented by the Fishes library with over 8,000 volumes, an extensive collection of reprints, and archives of original illustrations, maps, and photographs.
Additional information may be found at:
Eligibility
Applicants should have a proven record of research accomplishment and knowledge of the systematics of one or more groups of fishes. The fellowship may begin on or after 1 January 2024. All formal requirements for a Ph.D. must be completed before the start of the tenure.
Fellowships are available to US and non-US citizens.
Priority will be given to proposals that: 1) involve research related to systematic ichthyology, 2) indicate a high standard of research productivity, creativity, and interactivity, and 3) demonstrate how they would use the fish collection resources at NMNH.
How to Apply
Applications must be submitted online at solaa.si.edu by 1 September 2023 and include:
Curriculum Vitae. Must include your education, expertise, achievements and honors, publications, and brief description of research interests.
Recent Publications (maximum of three PDFs)
Proposal (abstract, research proposal (2-3 pages), timetable, and budget)
Letters of Reference (two), submitted separately by the referees
You must identify a member of the NMNH Fish Division staff or affiliated staff (including retirees) to serve as your principal fellowship advisor and a second as alternate or co-advisor. For questions regarding the fellowship, please contact Lynne Parenti (PARENTIL@si.edu)
Proposal Summary
Each proposal must include:
Abstract: Abstract of the proposed research. Limited to 250 words.
Research Proposal: The full statement of your research for the one-year tenure. The proposal should address methodology, importance of work both in relation to the broader discipline and to your own scholarly goals, and justification for conducting this research at the Smithsonian utilizing the resources in the Department of Vertebrate Zoology, Division of Fishes. Limited to 3 double-spaced pages, including figures, 11-point type.
Timetable: Complete timetable with milestones and travel date estimates to accomplish the research objectives according to the planned tenure.
Budget and Justification: Budget and justification for equipment, supplies, research-related travel costs, and other support required to conduct the research (excluding stipend and relocation costs). Applicants are strongly encouraged to include travel to scientific meetings and opportunities to advocate for collections-based research. Applicants are encouraged to discuss potential research costs with NMNH staff before submitting your application. If required funds exceed the maximum annual research allowance of $5,000, please explain the source of the additional funds.
Bibliography: Bibliography of literature relevant to your proposed research, as needed. Limited to two pages.
References: The name and email address of the two persons familiar with your work who will be sending separately a Letter of Reference through the online system. Referees are encouraged to submit their letter in time to be included as part of the application review. We recommend that applicants provide a copy of their proposal to their referees. Each applicant is responsible for ensuring that all letters of reference are submitted by the deadline.
Award
The fellowship provides stipend, research/travel allowance, health insurance allowance, and a one-time relocation allowance.
One-year Award Package
$62,000/year – Stipend
$5,000/year – Research/Travel Allowance
$5,000/year – Health Insurance Allowance
$1,000 – Relocation Allowance
__________________________________
$73,000 total for one-year award
Past Awardees
The first fellowship was awarded in 2018 to William B. Ludt, Ph.D. Louisiana State University. In September 2019, Bill began as an Assistant Curator of Ichthyology at the Natural History Museum of Los Angeles County. The second fellowship was awarded in 2019 to Murilo Pastana, Ph.D. Museu de Zoologia da Universidade de São Paulo (MZUSP). In January 2023, Murilo began as a Curator of Fishes, MZUSP.